FDC has been many different things over the course of their short career. Gobby beginners, loudly declaring their greatness — "My childhood was small, but I'm going to be big," Greane Chaten shrieked on the opening track of the band's debut 2019 — are sure to be skeptics, self-confident in their success. Cheers: "Pigeonholed, coo'ed to death," Chatten complained about his 2020 successor, A Hero Death. Dublin's young voice, criticizing their city's restrictions – "If you're a rock star, porn star, or superstar – no matter what you are / Get a good car, get out of here" – and Irish immigrants uncomfortable move to Britain: "London is fine Is my time / I studied the truth with a lie." A band that has felt like a reset button in an increasingly moribund alternative rock scene, standing at the head of a new wave of artists with blaring guitars and sprechgesang Singing, refusing, refusing to be a part of anything: "I don't belong to anyone, I don't want to belong to anyone."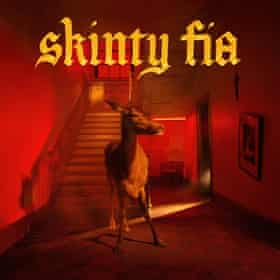 Given their history, the question of what Fontaines DC is now lies around their third album. It comes wrapped in a wrapper showing a nervous deer in the hallway of a house, its title derived from a Gaelic expression of discontent, variously picking out themes of addiction, relationships and the concept of Irishness as viewed through the lens of the Irish diaspora. If the album that preceded it was an album audibly written by a touring band weary of ferocious reviews and nominations for Mercury – the home of songs with such names as Televised Mind, A Lucid Dream, and No – their greatest skill lies in turning said caution into ballads. Which felt overwhelming and realistic, not sloppy.
By contrast, the Skinty Fia feels more measured and reflective. She boasts a few examples of her complete sinister approach. The default tempo setting is slow; Her guitars feel resonant and cavernous – even as you get close to Nabokov – rather than being hurried and in your face. One song removes every recognizable aspect of Fontaines DC's voice except Chatten's vocals — and puts it on a whirring accordion: The Couple Across the Way is a refugee from the abandoned idea of ​​recording a double album, half of which is dedicated to songs inspired by traditional Irish music. Her words depict an old couple quarreling as they discover new neighbors ("a husband with passion at his best") and wondering aloud what to make of them. And he concludes ambiguously: "Maybe they look at us and hope it will be in time." It's hard to tell whether this last line indicates that, in depth and despite the arguments, everything between the older couple is okay, or whether it's a hollow laugh at their little love fantasies.
Emotionally at least, The Couple Across the Way is part of the rest of the Skinty Fia: annoying, or at least elusive, uncertainty seeps into just about everything. Roman Holiday is dizzy with the excitement of life in London – "Come before it's all gone… put on high heels" – and enraged at English arrogance: "As they extinguish hopes and wipe the suns / They pretend to see what genius comes in." Bloomsday finds Chatten wandering in Dublin, and his nostalgia is touched by the realization of why he left in the first place: "I'm looking for something no one has done / Won't find here my love." Creeping along, brimming with guitar shards, the music tells its own story. Meanwhile, the album's most raucous moment, Smiths-y single Jackie Down the Line, has something approaching a solo chorus and comes emblazoned with the phrases "do-do-do" and "la-la-la" that mask a grim story of being Narrating the controlling and abusive relationship from the unrepentant perspective of the abuser: something impressive that makes the audience sing along with it.
In an age of polarization, there's something exhilarating about Fontaines DC's audacious refusal to join, to deal instead with shades of gray and shuffle. There's also something bold about their unwillingness to rely on the more compelling side of their voice. If you occasionally yearn for a track that pulls the listener out of the throat the way Boy in the Better Land or A Hero's Death did, the music compensates by expanding in a way that bodes well for the future: the track's mix of serrated guitars and electronics, sometimes invoking a cloudy version from the sound of Chemical Brothers; A tapestry of almost choral backing vocals behind the opening In ár gCroíthe Go Deo. For now, adopting a state of confusion suits them.
Listen to Alexis this week
Lizzo: About Curse Time
Sometimes the big hitters of pop music provide all you need: a backing that sounds like the greatest classy track he's ever made, and a lyrical swing even when he claims to be under stress.